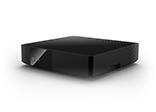 Check your set-top box model from the bottom of the set-top box or from this picture.
Channels visible via antenna or cable
JIM, TV5, Kutonen, FOX, AVA, Hero, AlfaTV and Frii channels can be seen in households with antennas only in certain parts of Finland, mainly south of the Kemi-Suomussalmi line. Elisa Viihde set-top box will not change the visibility of these channels via an antenna connection. However, you can always record programmes from these channels as well.
Basic channels
| | |
| --- | --- |
| Channel name | Channel number |
| Yle TV1 | 1 |
| Yle TV2 | 2 |
| MTV3 | 3 |
| Nelonen | 4 |
| Yle Teema & Fem | 5 |
| Sub | 6 |
| TV5 | 7 |
| Liv | 8 |
| JIM | 9 |
| Kutonen | 10 |
| TLC | 11 |
| FOX | 12 |
| AVA | 13 |
| Hero | 14 |
| Alfa TV | 15 |
| Frii | 16 |
| Harju & Pöntinen | 17 |
| National Geographic Channel | 20 |
Extra channels
| | |
| --- | --- |
| Channel name | Channel number |
| Elisa Viihde esittelykanava | 499 |
| Bonuskanava | 500 |
| Yle TV1 HD | 501 |
| Yle TV2 HD | 502 |
| MTV3 HD | 503 |
| Yle Teema & Fem HD | 505 |
| Sub HD | 506 |
| FOX HD | 512 |
| AVA HD | 513 |
| AlfaTV | 515 |
| National Geographic Channel (HD) | 520 |
| Elisa Viihde Sport 1 | 521 |
| Eurosport 1 (HD-tasoa) | 525 |
| History | 528 |
| MTV Finland | 530 |
| TV7 | 533 |
| CNN | 535 |
| BBC World News | 537 |
| France 24 | 540 |
| Al Jazeera English | 541 |
| Russia Today | 542 |
| NHK World | 544 |
| DW (Deutsche Welle) | 545 |
Pay-TV channels
| | |
| --- | --- |
| Channel name | Channel number |
| Netflix | 498 |
| DW Deutsch (saksaksi) | 546 |
| Disney Channel | 560 |
| Disney XD | 561 |
| Disney Junior | 562 |
| Cartoon Networks | 564 |
| Boomerang | 565 |
| Nick Jr | 566 |
| English Club TV | 569 |
| Discovery Channel | 570 |
| Investigation Discovery | 571 |
| Discovery Science | 572 |
| Discovery World | 573 |
| Animal Planet HD | 575 |
| National Geographic Wild HD | 580 |
| Travel Channel | 581 |
| Eurosport 2 | 590 |
| Extreme Sports Channel | 593 |
| Motorsport.tv | 594 |
| Nautical Channel | 595 |
| TotoTV | 597 |
| SVT1 | 600 |
| SVT2 | 601 |
| TV3 Sverige | 602 |
| TV4 | 603 |
| TV6 | 604 |
| Barnkanalen | 605 |
| Kunskapskanalen | 606 |
| NRK 1 HD | 607 |
| DR1 HD | 608 |
| Kanal 10 | 609 |
| Channel One Russia | 610 |
| NTV Mir | 611 |
| Dom Kino | 612 |
| Telecafe | 613 |
| Carousel International | 614 |
| Muzika Pervogo | 615 |
| Vremya | 616 |
| CBS Reality | 625 |
| MTV DANCE | 632 |
| MTV HITS | 633 |
| MTV MUSIC 24 | 634 |
| MTV ROCKS | 635 |
| VH1 | 636 |
| VH1 Classic | 637 |
| Mezzo | 638 |
| CNBC Nordic | 640 |
| Euronews | 641 |
| Sky News | 642 |
| Canal 24 Horas | 643 |
| TVE | 644 |
| RAI1 / Rai Uno | 645 |
| RTL | 650 |
| 3sat | 652 |
| Arte | 653 |
| France 2 | 654 |
| TV5 Monde | 655 |
| ETV | 657 |
| C More Max | 660 |
| C More Juniori | 663 |
| C More First HD | 681 |
| C More Hits HD | 682 |
| C More Stars | 684 |
| C More Series HD | 685 |
| SF Kanalen | 687 |
| C More Sport 1 | 700 |
| C More Sport 2 | 701 |
| C More Golf HD | 703 |
| Viasat Film Premiere | 711 |
| Viasat Film Action | 713 |
| Viasat Film Family | 715 |
| Viasat Film Hits | 716 |
| Viasat Nature | 728 |
| Viasat History | 730 |
| Viasat Explore | 731 |
| Viasat Nature / Playboy TV | 732 |
| Viasat Sport | 733 |
| Viasat Urheilu HD (ent. Viasat Sport Finland) | 734 |
| Viasat Hockey | 735 |
| Viasat Golf | 736 |
| Viasat Sport Premium HD | 742 |
| Viasat Jääkiekko HD | 745 |
| Viasat Fotboll HD | 746 |
| Viasat Jalkapallo HD | 747 |
| Ruutu+ Leffat ja Sarjat | 750 |
| Ruutu+ Dokkarit | 751 |
| Ruutu+ Lapset | 752 |
| FIGHT SPORTS | 762 |
| Mezzo Live HD | 766 |
| Brava HD | 767 |
| BBC Brit | 780 |
| BBC Earth | 781 |
| FUEL TV | 788 |
| Elisa Aikuisviihdevuokraamo | 790 |
| Brazzers TV Europe | 791 |
| Private TV | 792 |
| Blue Hustler TV | 793 |
| Hustler TV HD | 794 |
| DUSK | 798 |
| Ruutu+ Urheilu 1 | 801 |
| Ruutu+ Urheilu 2 | 802 |
| Ruutu+ Urheilu 3 | 803 |
| Ruutu+ Urheilu 4 | 804 |
| Ruutu+ Urheilu 5 | 805 |
| Ruutu+ Urheilu 6 | 806 |
| Ruutu+ Urheilu 7 | 807 |
| Ruutu+ Urheilu 8 | 808 |
| Viasat NHL Xtra 1 | 821 |
| Viasat NHL Xtra 2 | 822 |
| Viasat NHL Xtra 3 | 823 |
| Viasat NHL Xtra 4 | 824 |
| Viasat NHL Xtra 5 | 825 |
| Viasat NHL Xtra 6 | 826 |
| Viasat NHL Xtra 7 | 827 |
| Viasat NHL Xtra 8 | 828 |
| Elisa Viihde Sport 1 | 841 |
| Elisa Viihde Sport 2 | 842 |
| Elisa Viihde Sport 3 | 843 |
| Elisa Viihde Sport 4 | 844 |
| Elisa Viihde Sport 5 | 845 |
| Elisa Viihde Sport 6 | 846 |
| Elisa Viihde Sport 7 | 847 |
| Elisa Viihde Sport 8 | 848 |
| C More Max (duplikaattikanava) | 851 |
| C More F1 On Board | 852 |
| C More F1 Varikko | 853 |
| C More F1 Sijainti | 854 |
| C More F1 Data | 855 |
| C More F1 Kohokohdat | 856 |